A single point of contact in a "Complex Multi-Brand Environment"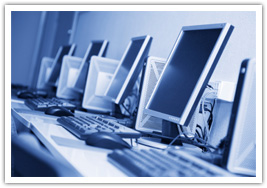 Benefits:
Netcare Solutions Maintenance services, primarily break-fix maintenance or preventative maintenance ensures that one contact point will direct your request to a swift resolution within agreed service levels for multiple brands/makes.
Netcare Solutions will meet all provision of service required by the sensibility of your systems, on-site based engineers and parts or immediate swap of equipment for ensured continuity in critical operations.
Maintenance Service covers
Problem logging:
Recording and monitoring of the request will be made through a single point of contact for all covered equipment (agreed PC desktop systems, portable, PC LAN servers, PC peripherals, operating system, application or networking software).
Problem diagnosis
Establishing the probable cause of trouble.
Problem resolutions
Netcare Solutions will first endeavor to provide with an error workaround method then dispatch an engineer on customer premises for problem resolution. Repair work may be carried on-site, or parts may simply be exchanged for equivalent elements providing the same functionality, awaiting actual repair being carried out in Netcare Solutions's premises.
Netcare Solutions is a midsize
IT solutions provider
with deep focus on
industry and technology
expertise.
Since 2011
, we have been helping businesses to
design, install, integrate and commission various hardware & software components
thereby providing an end-to-end solution that satisfy our clients' needs. We focus on the Business IT Solutions requirement of the enterprises and deliver the same.
We have an a experienced support team to provide varying aspects of Information Technology services and products to businesses throughout. As a company, it is crucial that your IT components run smoothly. You will have both on-site and off-site support that allows our technical staff to troubleshoot any setbacks that you are undergoing.
E-Hard Netcare Solutions is providing telecom network solutions and telecom services in the telecom sector ranging from passive infrastructure to active infrastructure services for the major telecom operators as well as primary telecom infra providers.
We carry out network planning, design, operation & maintenance for telecom networks. We are in sync with the need for innovation, market needs as well as the company vision & mission for conducting sound business practice. We are also a very well focused and goal oriented organization with strategic planning to achieve business and customer oriented targets, milestones.