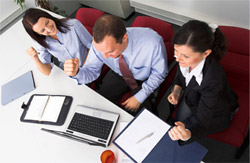 The Challenge:
In today's rapidly changing technology and business environment, managing your IT infrastructure is more complex than ever, especially when you manage products from multiple vendors. The variety of systems, users, and locations can thwart your operations staff and complicate your IT decision-making process.
For example, are you?

Uncertain of your server and desktop software compliance?

Depreciating more assets than you physically have?

Paying for maintenance on systems you don't have anymore?

Having difficulty reconciling actual configurations with lease-return configurations?
If you experience any of these difficulties in this list you may have asset management problems. What you need is an asset management system that can improve your IT management effectiveness and reduce your bottom line. In fact, industry experts agree that you can save up to 40% on your IT management costs by implementing an effective asset management program.
Benefits:
Asset Management Services from Netcare Solutions offers you a cost effective and efficient way to identify, track, inventory, and report your IT assets and their related investments. This service can:

Accurately identify your systems

Record server configurations

Determine software license compliance

Provide better support

Track user information
Deliverables:
Our Asset Management Services are secure, and deliver valuable IT asset information throughout the asset life cycle. Our service also provides immediately measurable Return-on-Investment for your organization, and gives you control over your IT infrastructure.
NETCARE SOLUTIONS will implement

Automated identification (State - of - the - art tool)

Recording

Control

Retention of information

Relationship between all items
NETCARE SOLUTIONS covers the following service map:
Consulting
: Identifying the Customer unique asset control requirements, auditing existing procedures, etc.
Change control process definition
: Assessing best-suited standard for permanent updating of your database.
Asset system establishment
System design, planning and implementation management of the Customer's new asset system.
Software inventory
: Tracking on installation and license data.
Hardware inventory
Locating, identifying and labeling of hardware equipment.
Assets register management
Entire management from daily asset tracking to report status (lease, warranty...) and analysis.