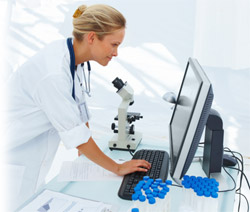 Today's hospitality/healthcare and organizations have changed, mirroring or leading the changes seen in their enterprise counterparts. Organizations have become widely distributed, and most don't have a dedicated IT staff. At the same time, most clinics or distributed sites require connectivity to hospital resources/applications, and reliable, high speed wireless networks to function. The mobile nature of caregivers and the growing use of networked imaging and video in patient care settings make an affordable, easy to manage network mission critical.
The distributed yet centrally manageable architecture handles this flood of application traffic with the optimized availability and performance that clinicians can rely on as they strive to improve patient care quality and reduce healthcare delivery costs. Netcare solution includes routers and 802.11n access points, both managed securely via a single router. Both remote access network and Wi-Fi solutions function with unprecedented ease of deployment.
WiFi Hotspots
Hotels - Cafe's - Bars - rooms "Internet Access"
Hotels, Cafe's and Bars are faced with an increasing demand for guest and visitor connectivity throughout the entire premises; guest rooms, restaurants, lobbies, outdoor areas. Having the ability to offer an internet access service will give you the opportunity to:Increase your visitors by offering FREE access.

Secure ongoing revenue for your business.

Increase your company profile and win new customers.

Provide a valuable service to your customers.
HSIA (High Speed Internet Access)
For hotels guests today, great internet experience is as important as good rooms.
The guest interface
is designed to provide a sense of luxury combined with ease of use. At the same time, it anticipates the varying needs of different types of guests so that everyone gets what they wish to get.
The hotel administration interface
is power packed and flexible. It enables the hotel to customize its offerings to guests, and provides a host of reports with the types of information that the hotel will need.

Plug and Play

Room Mapping for Wired Rooms

Seamless Wired to Wi-Fi and Wi-Fi to wired transfer

Hotel can define various plans

Internet as per DOT regulations

Network Management System

Customized Hospitality Help Desk System